The FloLogic CONNECT WiFi module connects to a local router to enable app-based alerts and full system control from anywhere a smartphone or tablet has a cellular or WiFi connection. Retrofits require software version 3.8 or greater. See software compatibility guide.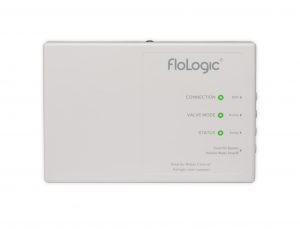 Enable remote notifications and control of your FloLogic System from anywhere with the CONNECT Module and FloLogic app. The FloLogic CONNECT Module works with all FloLogic System from the 3.5 model generation and some late 3.0 models (software version 3.8 and higher). See here for how to confirm software version. The Module enables the smartphone app interface through a local WiFi signal. The free FloLogic app is available on the iTunes and Google Play stores for iOS and Android devices. The CONNECT Module connects to the existing communication cable that has traditionally connected from the Valve to the Control Panel. A provided local connection cable then connects the CONNECT Module to the existing Control Panel. All settings adjustments and notifications made or received on the app will be reflected on the local Control Panel and vice versa. When purchased individually, the CONNECT Module comes with a 1 year warranty against manufacturer defects.
Note that this component is currently on back order due to the global chip shortage. Call FloLogic for timing details 877-356-5644.
Additional information
| | |
| --- | --- |
| Weight | 16 oz |
| Dimensions | 7 × 5 × 3 in |
About FloLogic Water Leak Detector
Find virtually all plumbing supply leaks and automatically stop them to prevent catastrophic damage with FloLogic–the most comprehensive intelligent leak detection system available. The FloLogic 1.5-Inch System installs in your water line as it enters your property and uses exclusive flow-sensing technology to identify all water leaks–as small as a pinhole, up to high volume leaks–and automatically shuts off the water upon detection. Enjoy the peace of mind that devastating plumbing supply leaks will never strike you when you purchase a FloLogic System today. The patented system works by recognizing uninterrupted flow that exceeds the norm for the occupancy status of the property.
Designed to continuously detect and automatically stop virtually all plumbing supply leaks, which affect 1-in-12 homes per year, starting at 0.5 ounce (1 tablespoon) per minute
Installing a FloLogic System qualifies many for home insurance discounts (ask your carrier)
Unlike water sensors, the FloLogic System detects all plumbing supply leaks: such as those in pipes, fittings, supply lines and appliances, including water heaters, washing machines and toilets

Identifies and stops damage-inducing AND water-wasting leaks alike and unlike cheap, plastic metering leak detection products, FloLogic sees small leaks in real-time whereas others can not detect small leaks in real-time

2″ full port solid brass valve accommodates up to 200 gallons of water flow per minute–does not affect your normal water use experience

Comes with a standard 5-year warranty against manufacturer defects