FloLogic is the best leak control technology you can buy because: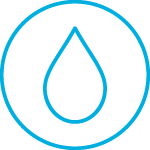 It's Foolproof
Only FloLogic automatically detects and immediately stops leaks as small as .5 oz. per minute (that's about a tablespoon). Other devices require 16 oz. to 32 oz. to begin real-time detection (that's up to 360 gallons in a single day!).

It's Intelligent
Only FloLogic communicates with automated water use devices, creating a true smart plumbing ecosystem. The app-based system sends real-time alerts and gives you control over the entire system.
It's Versatile
Only FloLogic provides exceptional installation flexibility in multiple sizes and configurations, so it works in your home.

It's Guaranteed
Only FloLogic is built in the US from cast bronze, with temperature sensor, battery back up and a best-in-the-business 5-year warranty. FloLogic is a proven leader in smart leak control for 20 years and counting.
Mark Baker bought FloLogic. He's glad he did.
"I had just left my home for the day and my hot water tank failed. FloLogic shut the water off in seconds, saving me from thousands of dollars in repair damage and the headaches of rebuilding."
What water damage scenario scares you the most? Do you have questions about FloLogic?
Email us and we'll tell you how FloLogic provides superior solutions for your property.
Get peace of mind.