FloLogic's superior technology constantly identifies leaks of virtually
 

all sizes when they begin and stops them automatically. Now that's smart.
Only FloLogic's EverWatch™ flow-sensing technology continuously catches leaks beginning at 1/2 ounce-per-minute, anywhere in the plumbing supply. Even small leaks will cause major damage if undetected. Low cost leak detectors can miss small leaks. FloLogic monitors in real time, 24/7, with a flow sensor that is more sensitive than water meters. FloLogic is installed in the pipe where water enters the property. FloLogic's EverWatch™ technology constantly monitors every facet of the plumbing supply to catch virtually all leaks, from small pinhole-size to high flow leaks. Typical water use occurs in intervals. Leaks cause a continuous flow. They are automatically stopped as soon as flow times violate your Home or Away settings. You are notified immediately through the app.
FloLogic detects a leak. The water supply is turned off. You are alerted. All of this automatically.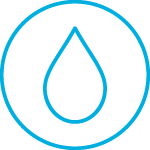 Detects
After detecting a leak or critically low room temperature, the system closes the water supply to minimize and prevent any damage or waste. FloLogic keeps your home safe, wherever you may be.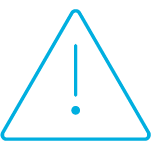 Alerts
The FloLogic mobile app sends instant alerts, providing vital information about abnormal water activity, critically low temperatures, or auto-shutoffs. You can easily forward information to a plumber, caretaker or your emergency contacts.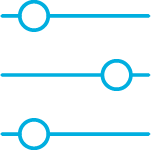 Controls
With the tap of a smartphone, you can turn your water off and on, change the System mode, adjust the settings, see if water is flowing, identify the flow duration and more—whether you're home or thousands of miles away.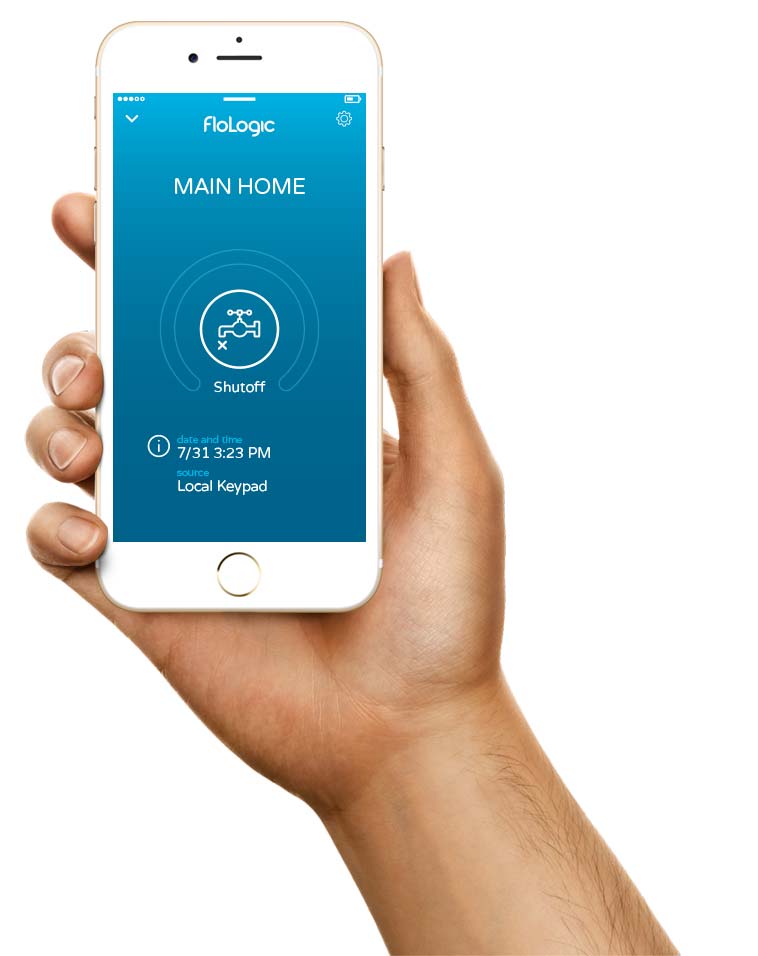 Smart Leak Control Provides Constant Protection and Connection
FloLogic has been revolutionizing leak control technology since 2000. Today's FloLogic System offers premium engineering and exclusive technology for property owners who demand superior plumbing system oversight.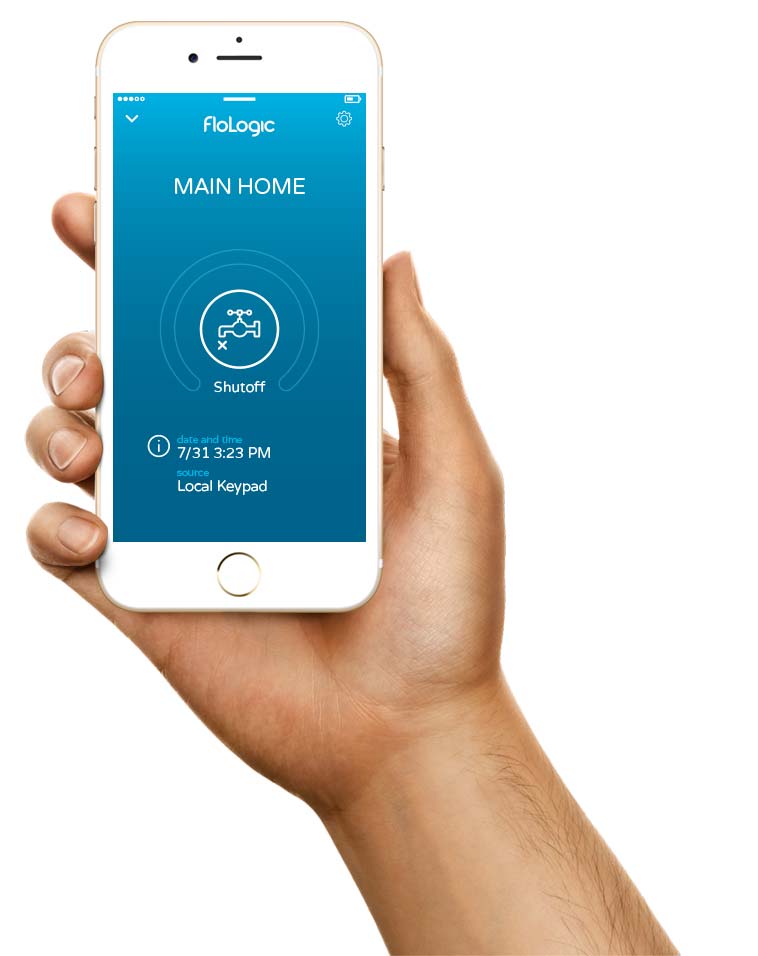 FloLogic Water Leak Alarm System Features
Smart
FloLogic won't interrupt normal water use—the System operates out of sight and mind until there's a leak or critically low temperature. The Connect Module uses a secure cloud connection for IOS and Android app-based alerts and control.  Only FloLogic's exclusive EverWatch™ technology is capable of constantly detecting leaks starting as small as 1/2 ounce per minute (one tablespoon-per-minute). It is the trusted and preferred brand among home insurers, plumber and security professionals.
Adaptable
FloLogic is available in 1″ (50 GPM), 1.5″ (100 GPM) and 2″ (200 GPM) configurations. It features fully adjustable flow sensitivity and flowtime settings for maximum protection. The valve assembly allows for both indoor and outdoor installations. It can be installed vertically or horizontally in up or down orientations. And it has standard home security connections as well as irrigation, water softener and pool fill integrations to avoid false alarms. 
Reliable
Local command and control and standard battery backup ensure zero downtime during internet and power outtages. FloLogic comes with a best-in-category standard five-year warranty. It features solid, lead-free, cast bronze construction with a full-port stainless steel ball—made in the USA. The FloLogic System is listed with UL, cUL, UPC, and cUPC. It is certified to NSF 61-8 with a pressure drop similar to one 90 degree pipe turn. FloLogic has an integrated manual override.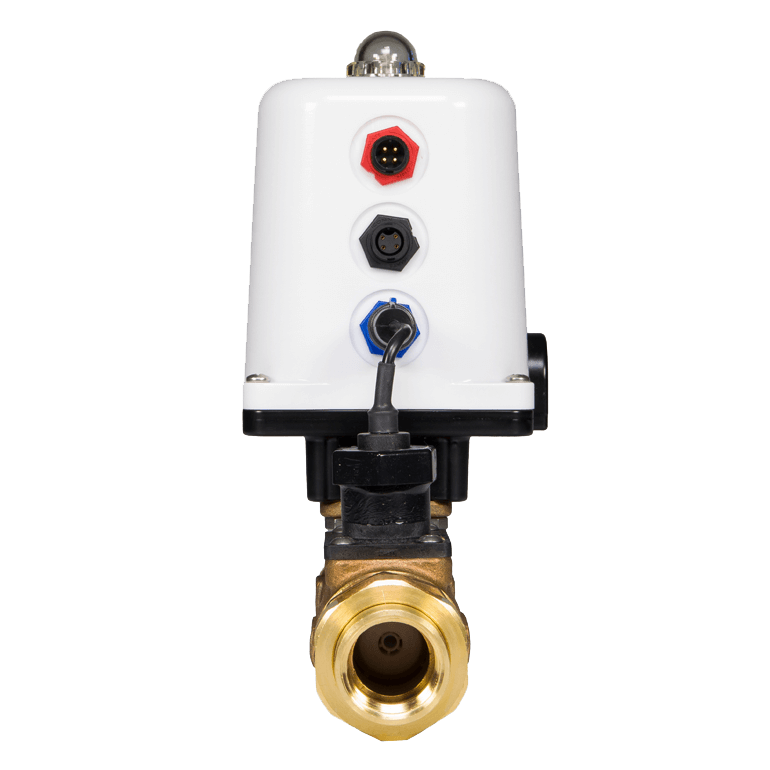 It's time for a smart solution.
Have a water leak problem?
FloLogic can help you maintain insurance and ensure that water never destroys your property again.
Looking for peace of mind?
FloLogic will protect your home 24/7 and may qualify you for insurance premium discounts.
Need to protect a client?
FloLogic is the trusted brand for comprehensive leak control.